Now that your shift is over (great job!) don't forget to send an invoice! To do this,
You can either allow the system to automatically complete the shift overnight or

Go to your account's home page (that's the calendar page)

Click on today's shift

Click "Mark as Complete". The

solid red dot will

turn grey

As soon as the shift is "complete" you can create and send the invoice
Now the Office can start the process of getting payment to you!
When you create and send your invoice, the system will also send you a copy of the invoice, so when tax time comes around, it's easy to organize your finances.
- read more -
How to complete your invoice:
Step #1: Go to the homepage and click on the shift date you need to create an invoice for
Step #2: On this page click "Create and Send Invoice"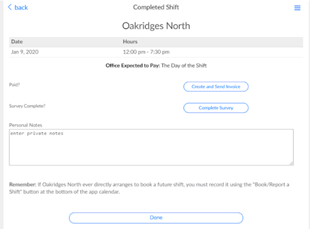 Step #3: Add details: start time, lunch break and end time. The system will calculate your payment total.
Step #4: Double check the information and then send your invoice! If after creating the invoice, you realize you made a mistake you can easily go back and click "Edit", fix the mistake, and then send the new invoice.
When you click "send", a copy is sent to the office and a copy is sent to you, for your records.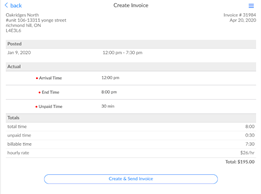 That's it!
TempStars Tip: Be sure to keep these invoices - we don't keep them on file. So when tax time comes around, it's easy to organize your finances.