At TempsStars it's so important to us that we know that dental assistants/hygienists using our service are aware of the sterilizing and infection control expectations for any shift booked with us.
Why it's important
The basic fundamentals of sterilizing and infection control are standard from practice to practice as a dental assistant or hygienist and these guidelines are set by a combination of Public Health/IPAC, RCDSO, and Ministry of Health.
Over the last few years, Public health and RCDSO have worked together with IPAC guidelines and making sure that dental offices are following and maintain these proper measures, especially now during this ongoing pandemic.
When you arrive at a shift most offices will have their very own protocols in place that are specific to them. So normally someone at the office will be assigned to take a few minutes to review these processes with you before the start of the shift.
IPAC Online training
IPAC Core Competencies Online learning
It's normal that an office may ask if you have completed the IPAC core competencies offered by Public health which are free to complete. Having this IPAC training has become an important part of sterilization in the dental office.
Stericentre and Infection Control Agreement Popup
You may have noticed that when you are in your account and looking through your shift list page if you click on the shift you will see a pop-up called Steri-centre and Infection control before the details section opens and looks like this!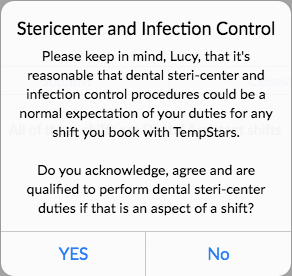 So when you have read and agreed to this pop-up, our system will time stamp that date for our records and only has to be done once.
It simply tells us that you are aware that sterilizing and infection control is part of your role in completing your shift with the office when you book with TempStars!